Developing a Generation of Diverse Leaders.
A letter from our Executive Director
Hello! Welcome to SPEAK Mentorship.
SPEAK stands for Support Prepare Empower Aspiring Kids. We are committed to developing a generation of diverse leaders across career fields.
Our Theory of Change is a network of peers and culturally responsive mentors increases girls' self-efficacy and access to opportunities, leading to successful and fulfilling post-secondary pathways.
SPEAK ensures girls get a fair chance of pursuing college and careers of their choice. Your help is critical to provide the support girls need to pursue opportunities to reach personal and professional goals.
Our success comes from creating and promoting projects with input gathered from the community and that build awareness and truly empower girls to identify and pursue opportunities for themselves. We do this by:
Creating, empowering, and inspiring a network of passionate professional women to help guide female youth and create a community around that youth
Pooling the community's resources to make a greater impact and stimulating community development from within

Facilitating dialogue between key players in a young girl's life to help support and increase opportunity
In the states, we seek to work with school districts and schools serving high populations of immigrant girls. Not only do we believe that by developing the daughter, we develop the family, but also that by empowering a SPEAK girl we empower the world. As each of these young women become bold and courageous individuals within their community, realizing their full potential to become workforce leaders, they will empower relatives in their countries of origin to commit to the development of the daughter in their countries of origin.
We are seeking to grow our international impact and will continue to strengthen our work with individuals abroad through our case study based SPEAK Empowerment courses, which offers international communities in-depth exposure to the narratives of visible role models through our Speaker Series events and prepares them to lead change in their communities through our series of workshops.
Through SPEAK programs, girls:
gain knowledge and experience with tech platforms and tools

develop a peer community and safe space within schools through SPEAK Chapter Clubs, making new friends, finding a sense of belonging, and increasing confidence and self-esteem

meet with multiple culturally responsive mentors to learn about their own cultures and other cultures, increasing their self-awareness, awareness of others, and developing their identity
learn new career specific skills, about career ecosystems, and pursue civic engagement opportunities through mentors
increase academic and social emotional skills, developing a greater sense of school engagement as mentoring sessions often tie into school activities

develop leadership skills, either through our Ambassador Program or through our other activities, such as Speaker Series, SPEAK Summit, SPEAK Summer Camp

possess more self-agency to pursue opportunities that lead to economic empowerment

lift communities through the empowerment of daughters
We could not do this without your support. Participation in our program leads to strong social and educational outcomes for your girls, including boosts in English language proficiency, academic achievement, attendance, leadership, technology skills, and critical relationships. With your help, we can make sure your students realize their potential before graduation, and embark on pathways towards college and career success and economic empowerment.
We have learned a lot about those we serve, and improve our programs to serve more girls each year. We are excited to do this work in partnership with schools, universities, sister organizations, and companies. The support of community makes this work possible, and we thank the educators, mentors, funders, sponsors and other community corporations and organizations that provide us with the resources we need to prepare SPEAK girls to become capable and effective leaders.
Thank you once again,
Hetal Jani
Founding Director, SPEAK Mentorship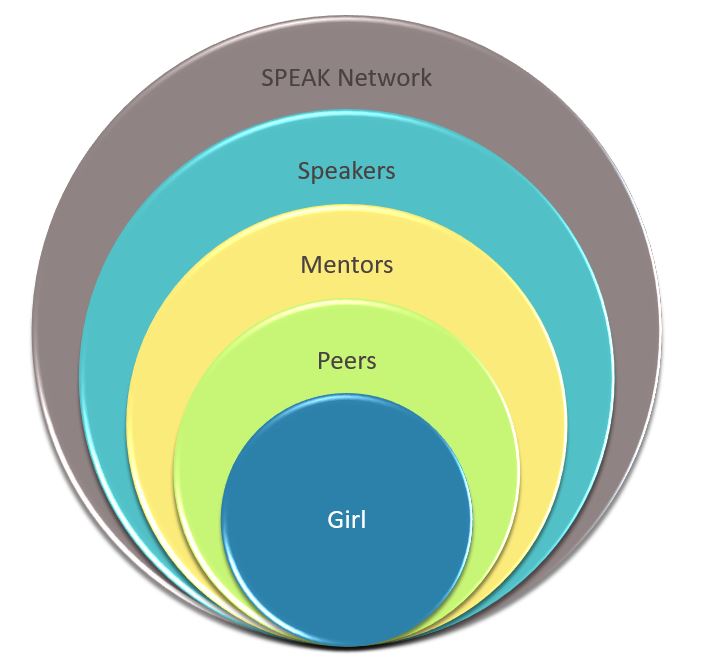 A Community That Opens Doors To Opportunity
Support
Prepare
Empower
Aspiring
Kids
Mission
SPEAK Mentorship develops the social and cultural capital of youth from immigrant families to become leaders in the workforce.
Vision
A more diverse future workforce with more women of color of all backgrounds in positions of power across a variety of careers.
Objectives
SPEAK Mentorship:

- creates and promotes projects that empower youth from immigrant families to identify and pursue opportunities

- creates, empowers, and inspires a network of professionals to guide youth and create a community around them

- pools community's resources, increasing impact and stimulating community development from within

- facilitates dialogue between key players in a young person's life to help support and increase opportunity